So these review and shelf deletions without warning have precedent on Amazon. This all took place a year ago. I wonder how often this happens? The whole GR censorship debacle makes a bit more sense now. One wonders what sort of site Goodreads will end up as? And hopes that Dawid is looking for alternative revenue streams before it gets big enough to get bought up.
***
A Kindle user had her account deleted because it had ties to 'previous abuses of company policy', but the online retailer blanked all follow-up enquiries.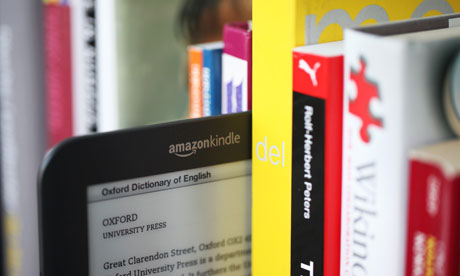 An Amazon Kindle user has had her account wiped and all her paid-for books deleted by Amazon without warning or explanation.
The Norwegian woman, identified only as Linn on media commentator Martin Bekkelund's blog, approached Amazon when she realised her Kindle had been wiped.
She was informed by a customer relations executive that her account had been closed, all open orders had been cancelled and all her content had been removed, but has been unable to find out why.
The move, which will shock ebook fans, highlights the power digital rights management (DRM) offers blue-chip companies. DRM is used by hardware manufacturers and publishers to limit the use of digital content once it has been purchased by consumers; in Amazon's case, it means the company can prevent you from reading content you have bought at the Kindle store on a rival device.
Linn was told by Amazon: "We have found your account is directly related to another which has been previously closed for abuse of our policies. As such, your Amazon.co.uk account has been closed and any open orders have been cancelled. Please understand that the closure of an account is a permanent action. Any subsequent accounts that are opened will be closed as well. Thank you for your understanding with our decision."
When Linn queried to which "directly related" account Amazon was referring, what had happened, and whether there was anything she could do to get her access reinstated, the online giant replied by saying it was "unable to provide detailed information" and reiterated her account would not be reopened.
In its final email to her, it added: "We regret that we have not been able to address your concerns to your satisfaction. Unfortunately, we will not be able to offer any additional insight or action on these matters. We wish you luck in locating a retailer better able to meet your needs and will not be able to offer any additional insight or action on these matters."
Bekkelun wrote: "This shows the very worst of DRM. If the retailer, in this case Amazon, thinks you're a crook, they will throw you out and take away everything that you bought. And if you disagree, you're totally outlawed. With DRM, you don't buy and own books, you merely rent them for as long as the retailer finds it convenient."
Andy Boxall of Digital Trends said: "Amazon in turn uses the Digital Millennium Copyright Act to take your books and privileges away if it finds you've been naughty."
According to Amazon's Kindle Store terms of use, "Kindle content is licensed, not sold". Should you attempt to break the DRM security block or transfer your purchase to another device, Amazon may legally "revoke your access to the Kindle Store and the Kindle Content without refund of any fees."
Technology writer Cory Doctorow suggested "the policy violation that Linn stands accused of is using a friend's UK address to buy Amazon UK English Kindle books from Norway". Under Amazon's rules, this type of action is barred, as the publisher seeks to control what content is read in which territory of the world.
In 2009, Amazon was forced to apologise for deleting books written by George Orwell from customers' Kindle devices without their knowledge following a rights issue (the books were added to its Kindle store by a third-party who did not have the rights to them). Company founder Jeff Bezos said the move was "stupid" and "thoughtless".
Update: Amazon contacted us on 23 October 2012 to say it has posted the following statement on its customer forum: "We would like to clarify our policy on this topic. Account status should not affect any customer's ability to access their library. If any customer has trouble accessing their content, he or she should contact customer service for help."